Green web hosting – and you can be too!
Pollution-free digital supply chain
That's right; our website has been approved and certified by the Green Web Foundation as doing our bit towards the evolution of a fossil-fuel-free internet, which one day will run entirely on renewable energy.
Web hosting energy usage
Just imagine, the internet runs on electricity – every single aspect of the internet requires power. Web servers are powered for every millisecond of every day of every year and that uses a lot of energy and creates a lot of heat and carbon emissions.
Just leaving your computer on all the time can waste as much as 50p per day and rising not to mention the carbon emission impact.
What does this mean?
As part of Aubergine's target of becoming Carbon Net Zero, we have been proved to be taken sustainable steps to avoid, reduce or offset the emissions caused by our digital infrastructure.
This is through our choice of server hosting and the pollution-free digital supply chains that we use across our business. It's part of our long-term commitment to becoming carbon zero so we are very excited to have been recognised for this step.
The good news is that if you host your website with us, you can also get yourself one of these green smiley faces and help spread the word about the making the web a cleaner place to be.
Just head over to https://www.thegreenwebfoundation.org/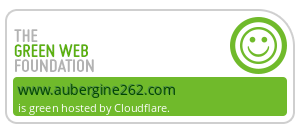 If you would like to enquire today about moving your website over to our Certified Green Web Foundation hosting platform to reduce your company's carbon digital footprint, contact us today.